This Balenciaga 2050 Fall RTW Does Not Exist
DALL·E 2 imagined fashion, sewn.
Art
I asked Jack to ask OpenAI's DALL·E 2 to generate an imagined "BALENCIAGA 2050 Fall Ready-To-Wear". Then I sewed it and now walking in real life.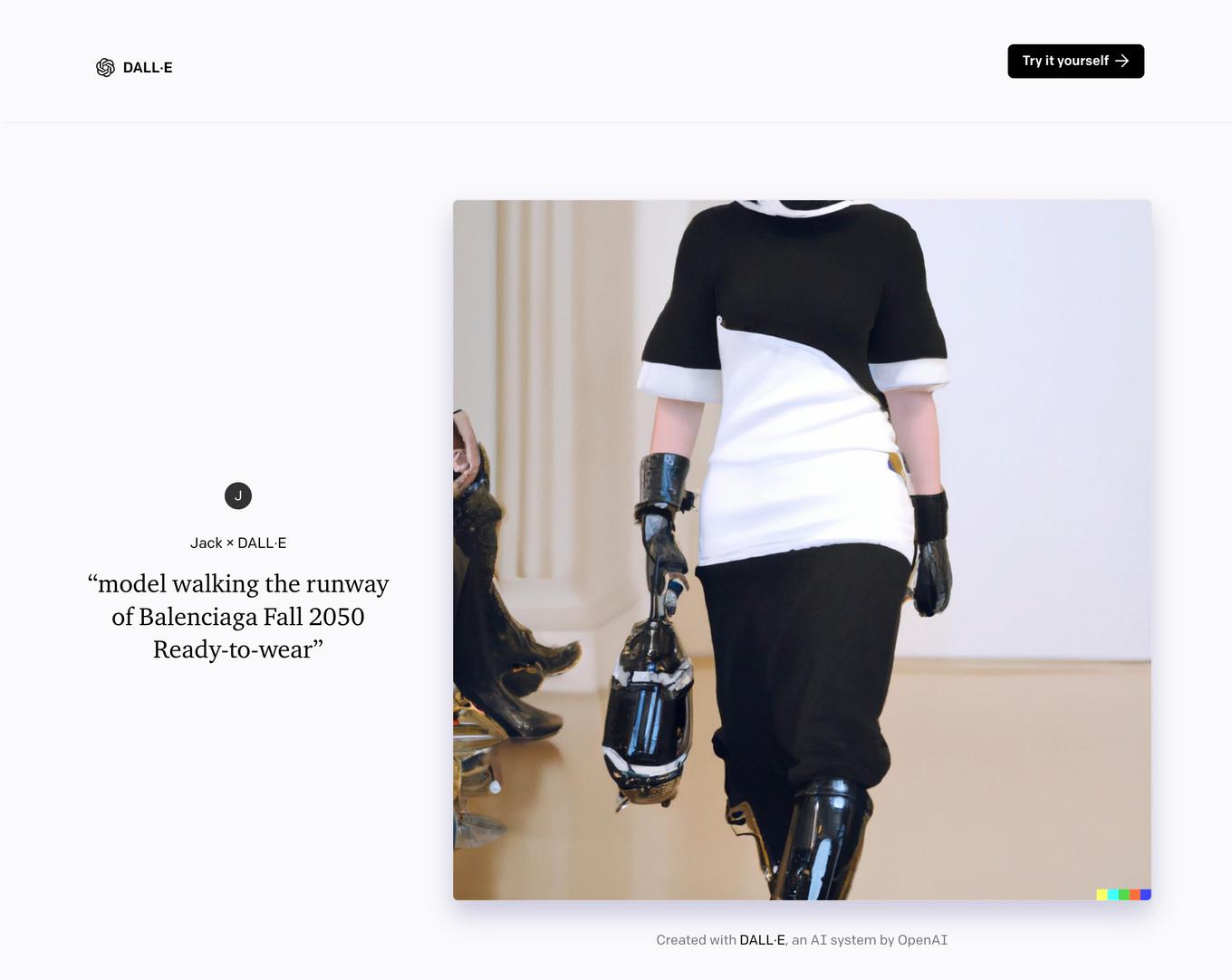 Me: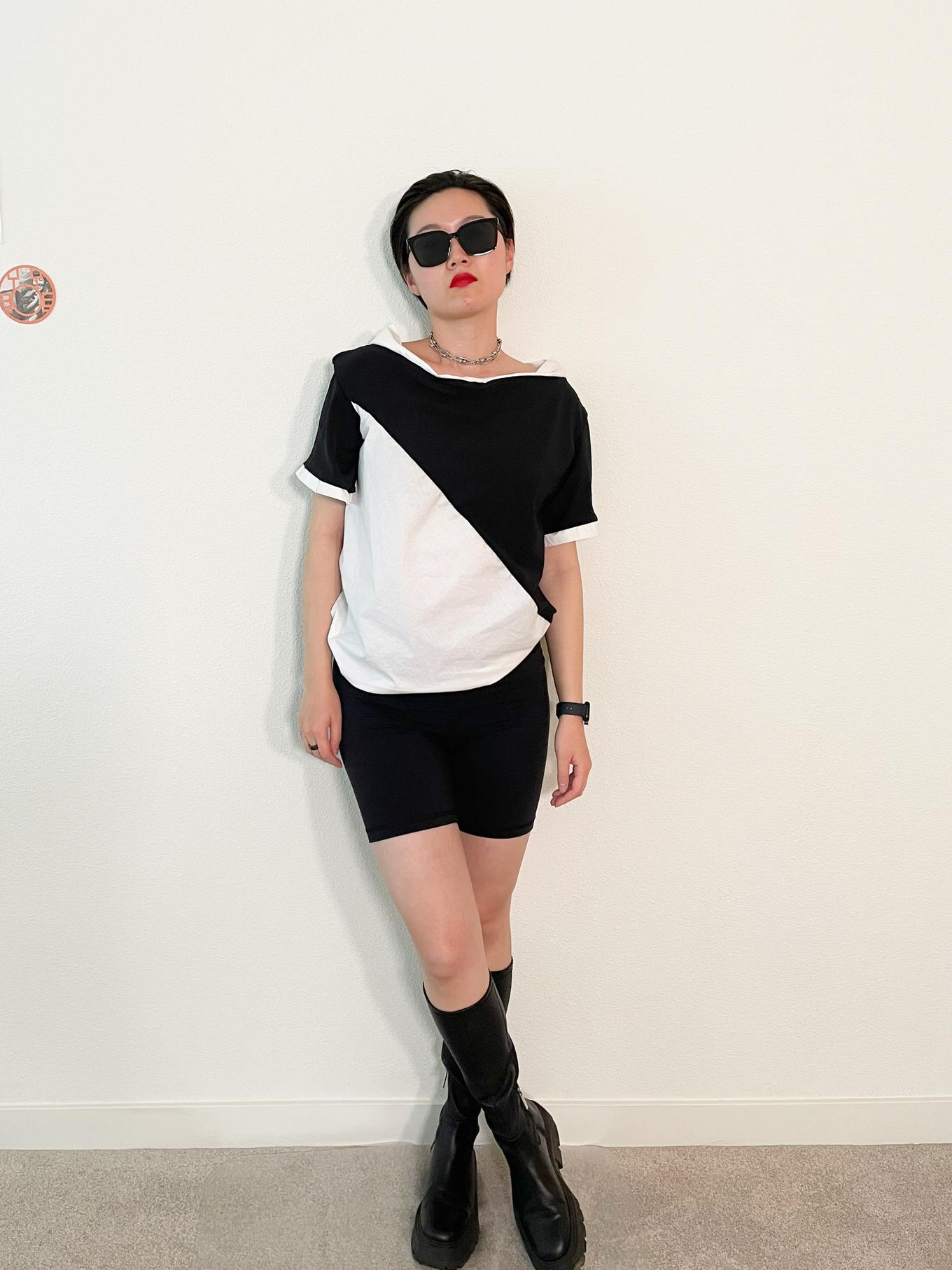 Motivation
I have been reading Worn: A People's History of Clothing by Sofi Thanhauser recently on the history of clothes and where they come from. I have also taken up sewing this year as a new hobby that involves making something physically.
Sewing itself invokes a feminine image. Growing up in China, I remember my grandmother would patch any holes on my clothes. And I remember her desk-like sewing machine. It was part of the four basic household items (四大件), which included sewing machines, bicycles, radios, and watches. It was the time when it was a novelty to visit countries outside of mainland China, and people buy a ton of things to bring back to home to gift their relatives, only to find out later, that it was labeled "Made in China".
Chinese labor. Chinese manual labor. Chinese female manual labor. Artist 曹斐 Cao Fei documented this aspect of China very well. For example, Whose Utopia documents the life in a light factory in Guangzhou.
I remember early in my PhD, one of the friends joked — it's okay, you can work at the nail salon if you can't find a job after. It was meant as a joke but it stung.
It stung because of the experiences of first generation immigrants before me. It stung because of all the books and movies documenting the types of jobs Chinese took. It stung because the precarious future in front of me — it's no joke that the "supposed" path for me was not to continue on to become a software engineer, but to become a nail salon worker, a seamstress, or a weaving factory worker.
That's the sarcasm that inspired this piece of work. You can take it in many ways. You can take it as a research exploration on Human-AI interaction and ML-assisted creativity. You can then begin to ponder the philosophical aspects of originality, copyright, humanness and the machine. Or, you can consider the socioeconomic structure behind the code, the Silicon Valley capitalism, and it's parallels with colonialism. The fact that the giant AI model did the more "brainy" part, and me, a Chinese woman, did the manual labor of patterning, cutting, and sewing.
You can even take it as a commentary on fast fashion (Zara, SHEIN, etc.) and its impact on the environment. And you can also take it as a love letter to Demna Gvasalia at Balenciaga, especially for Balenciaga FALL 2022 READY-TO-WEAR, which is such a master piece for our trouble times.
Take as you may. And this piece is dedicated to my mom, who taught me how to code; who sewed me many pieces of cute clothings when I was a baby. Love.
Reception
DALL-E has a sense of style: https://twitter.com/gdb/status/1516087933048025090?s=20&t=A46TAz1jAvytV0soni6tkg

— Greg Brockman (@gdb) April 18, 2022
References